The Barn Looks Like a Barn
They continue steadily on in a zen-like way without any zen to their self-concept. Tim makes the frames for doors and windows. He leans intently over the saw horses to trim a piece of 2×4 for a window frame. Every frame he has made fits perfectly. He didn't finish high school. Never saw the need. None of the three have much use for college—didn't go themselves and can't see how it would have made much difference to their lives. If their kids want to go, they shrug, its up to them. On day #4, I hear more detail about their lives and opinions as they chug down orange soda (Tim), 7-Up (Juany), and Coke (Steve).
Steve has been married twice. He is wise. He has gentle sotto voce advice for impetuous young Juany, who, at 29 , knows it all: is so decisive, his wife spends all his money!, she wants him to make more money but she wants him home. Juany wants to get home soon cause he loves his little girl who misses him, she wants her daddy. Yes, he loves his wife BUT… And there is always the "I love my wife, but," in every break-time effusion. Steve listens, off-hand, dropping a bit of succinct, calm advice here and there which is mostly ignored.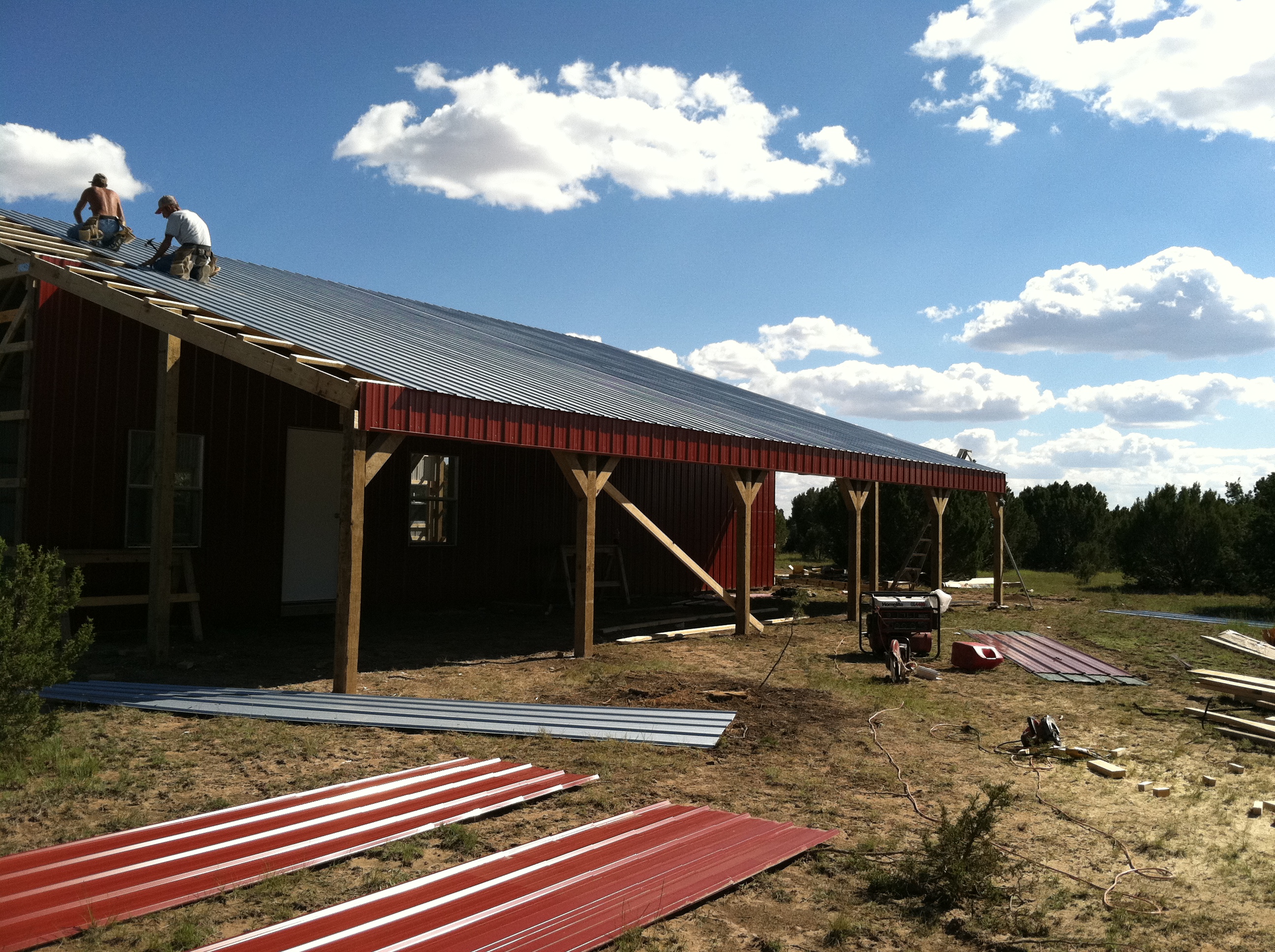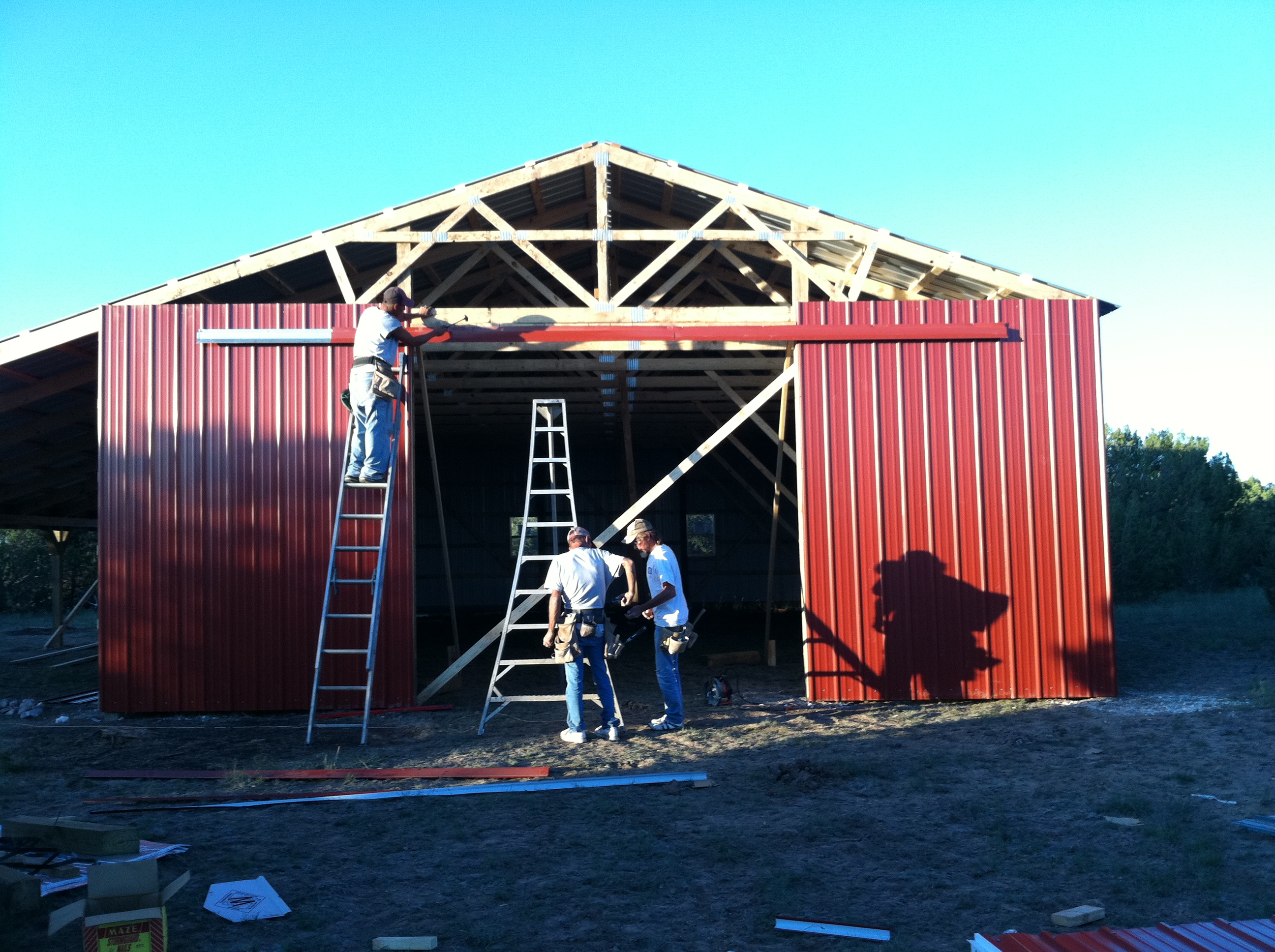 Last Day
The final day on the barn is a day of finishing—edges & trims. All the doors and windows have been framed and installed except the slide doors, which lie in position on the ground at the south end, ready to be hung. Tim gathers tools, piling leftover lumber, propanel, and insulation as Steve and Juany measure and mount the slide door track. They all stop and smoke a cigarette around noon.
I walk around, inspecting, asking final questions about the bottom edge of the west wall which doesn't touch the ground. Steve nods. "See it touches on the east side. The ground slopes ever-so-slightly which is why that side has a gap," he explains. The barn is level and squared. I'll have to seal around those edges before winter. I continue to inspect and see nothing to complain about. The barn is clean and sharp and wonderful.
They grind out their cigarette butts, heave up the first slide door, working it onto its track. Then the second. Jauny shoves them together. Thunk! He gestures to the door, like the circus lion tamer, "Fits snug as a glove!" And it does. The barn is done.
The Crew Leaves
They will go now and I feel both sad and relieved. It's been a consuming five days; I can use a digestion period. We shake hands. I give them the second half of the payment, a small tip each, a box of Chocolate Chip Oatmeal cookies for the ride home, and to Junay for his birthday, a set of antelope antlers I found on a hike. I wave them off and stand in stunned silence. Has this really happened, this thing that six weeks ago was phone calls and internet digging? Did I really find Wilson Pole Barn Company, research them, vet them, put in an order, transfer money from one account to another, send in the first half payment, fly out to the mesa and find the site, locate a jackhammer and a hauling tractor? Me, a dancer, who knows nothing of all this? Yes. I did. I cry as I imagine myself managing to do this, choosing it, learning it, and moving forward instead of thinking I can't, or getting stuck, or saying that I'll do it later.
It is a beautiful barn. A perfect barn. I feel such affection for the wonderful crew (Wilson Pole Barn specialists out of Wagoner, OK) who hammered in every nail by hand.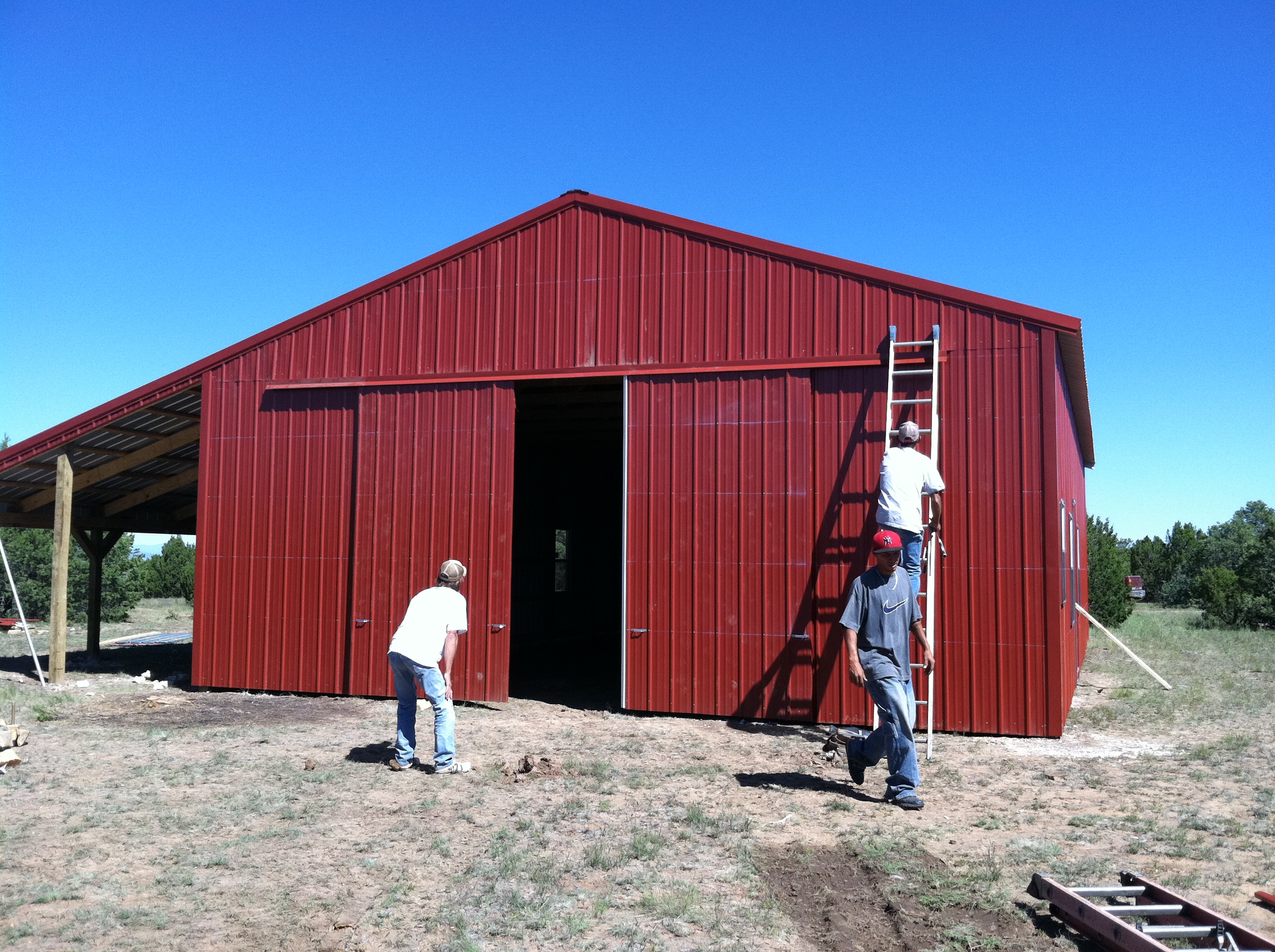 For me this is the first major endeavor where the ideas and actions remain.
As a dancer, all my work disappears—a performance that I prepare three months for is over in twenty minutes.
The same with dances that I choreograph on others.
Writing a memoir was better: it lingers as do videos,
but both of these are projects that are consumed rather quickly by others
and which once I've completed them, I rarely look into afterward.
The barn, however, is there. I will be going in and out.
I see it again and again as I walk the winding track between the pinions.
I think back to the moment when the ravens revealed that spot. Then, in just a few days,
the Wilson crew evolved the insubstantial into the substantial.
Not six months, or a year or two years.
No, it happened before my eyes, like old-time photographs in a dark room.
The edges sharpening, the form filling, timbers, metal sheets coalescing into a barn.