Where do you do your daily practice? What time of day? What do you wear? What do you sit on? What music have you been using? How long have your practice sessions been and how frequent?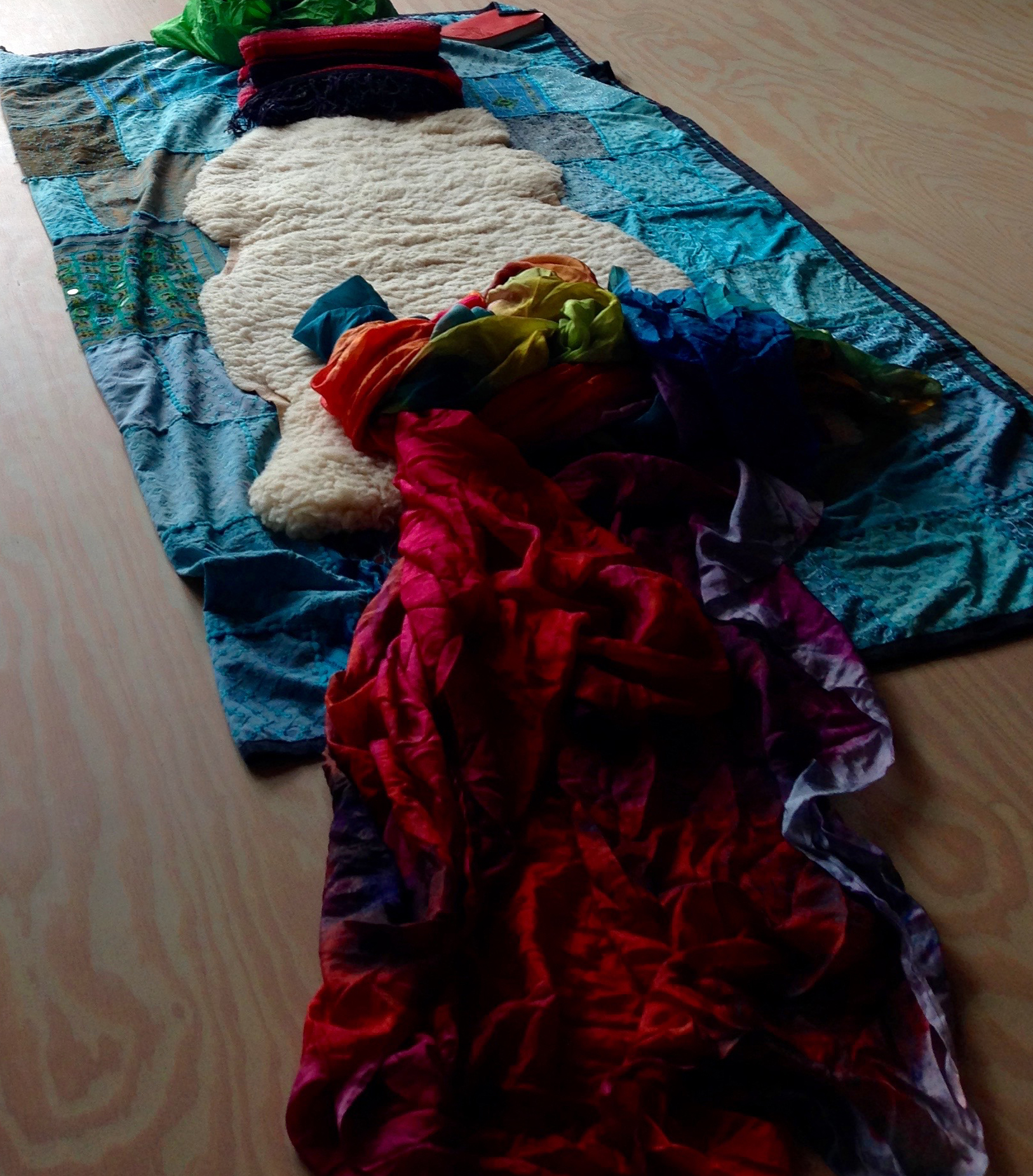 Iscah Paquin
In the last two week I have practices 2-3x a week. I have a dance/meditation room. It has teal walls and big bright windows. I sit on a yoga mat and on top of that a blue and turqouise mirrored quilt I picked up in India. I use a round meditation pillow as well. I keep my journal by my side and little pink mole notebook that I use as my practice log. I have been either done it right away in the morning, right when I get home after work, or later in the evening. I like in the morning or late evening because I like the lighting better. I've gone for 20-45 minutes. I normally wear my pajamas or whatever work out clothes I've been in. I've only used two playlists "Amazing Eyes of Rita" and "Susurro" I have been using a free-flowing process instead of picking a structure before hand. This are some of the things I have done: Super slow opening sequence, sitting breath only meditation, yoga, extending slow hip circles, silent chanting Hayy, free dance, a lot of just laying and focusing of breath and music and where I feel it in my body. I have been very very slow the past two weeks. No rapid movements or funky dancing for me. I also count my yoga class, where I work on applying seamless concentration through out the class. This is actually a lunch-time work class with 4 other ladies in a dimmed out conference room.)
Teresa Hawkes
I do my practice first thing in the morning in my living room: fluid yoga. I wear loose, comfortable clothing. I sit on the living room carpet. I don't use music. I put on inspiring stories I let roll in the background as I move. I move for 30-45 minutes. I do this 4-5 times per week. In the evening I do standing continuous flow. I do not use music. I just move from my front porch to my back porch and throughout the house. I wear loose comfortable clothing. I do this for 30-45 minutes 4-5 times per week. Then I have a long hot bath and let the sensations of the day roll through me and exit into the hot water. I have been doing this type of practice for the last three months. It keeps me alive.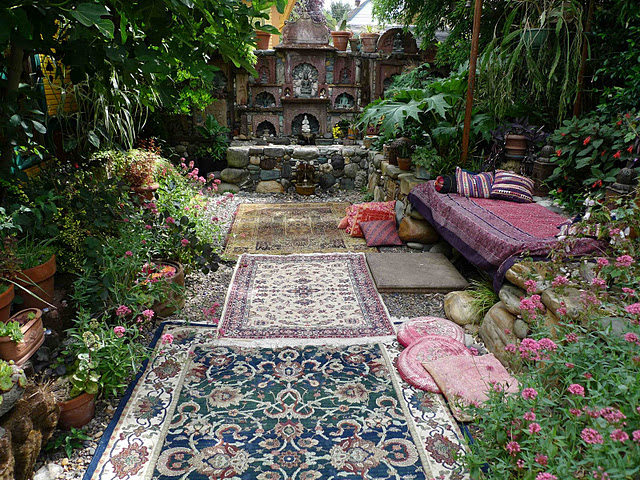 Carleen Bevans
The move to New Mexico is finished, finally settling in. My room is full of light as there are windows on three sides. I am almost surrounded by light and Mother Nature being here high in the trees and mountains of Santa Fe ( a little snow now adds to the beauty). I have a small space where I put my yoga mat with my multi- colored quilt the floor has radiant heat. Sometimes I use no music and sometimes I use Zanzibar (one of my favorites) Staying connected to my breath I stretch slowly then gently move in to rocking my pelvis, feeling the soft waves gently awaken my body, exploring the many ways my body likes to rock. Chanting, clearing my thoughts so I can listen to what my body wants, how much it wants etc. My intent is to expand slowly as this has been an incredibly long, emotional and exciting part of my journey. The above practice has just started and I am curious as to where it will lead me, my body and mind. I practice three times a week for 35 minutes and will slowly get to five or six times a week as it is something that my body, mind and soul really desires. Oh, yes I wear loose comfortable clothing as I start work right after. I am hoping to add an evening time also. Still have a few major projects before I can feel truly settled in and have the time. It seems my part time job is really a little more than that  I am amazes at how close I feel to the earth, sky and all my surroundings…. life is delicious.
"My intent is to expand slowly..."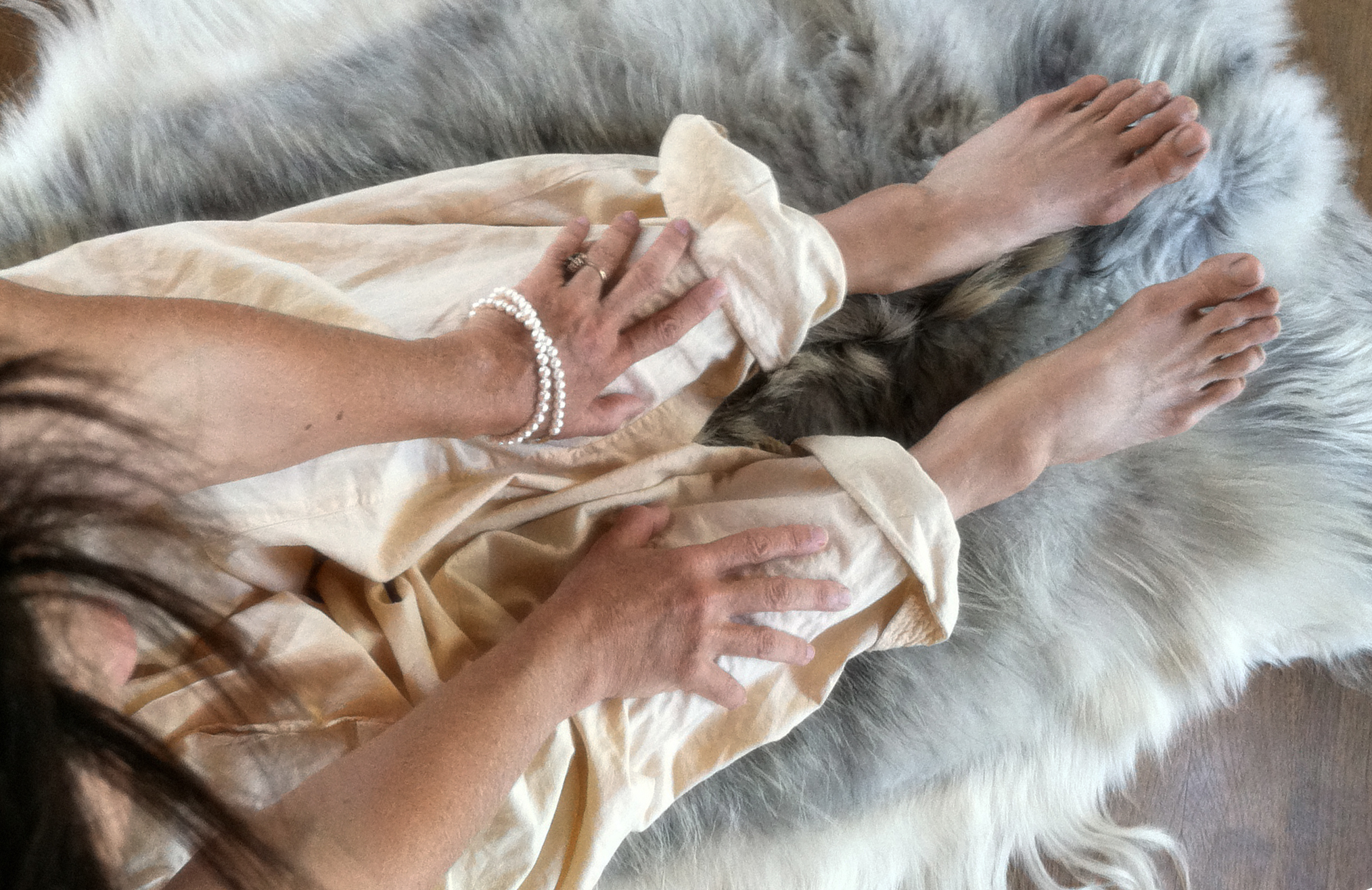 Anastacia Kaser
Practice notes: I teach a weekly class on Wednesday evenings. It's in a sweet little studio with sprung wood floors (my knees love that), gorgeous silk wedding kimonos hung on the walls (one in white brocade, one in black/white/red design with cranes), and relatively good lighting (could be a bit softer, but not bad). It's clean – that's super important. It's run by an actor who uses the space for Suzuki method to train actors to use their bodies. It's not a yoga studio, so there aren't blankets and mats – we have to bring our own. The sound system is good, but the equipment and hook up for my iPod is at the wrong end of the studio – in terms of cardinal directions and my sense of geomancy + placement (Vaastu) – it's in the southwest. If I want to set up at the "right" end of the studio (northeast), I have to bring my own speakers, which weigh a lot. So, I alternate between the two ends, depending on if I feel like toting the speakers. Class is supposed to start at 7, but there's an unspoken agreement that we start at 7:15 to allow for one of the consistent attendees to get there from the BART station (public transit). She works in San Francisco and can't make the earlier train. Then, we extend the end of class from the official 8:30 end time to 8:45/9:00. No one uses the space after us.
I start to think about the upcoming class way before Wednesday. I don't make a class plan – or if I do I know that I most likely won't follow it. But I like to start to think about the energies of the week. Is it a full moon? Have there been earthquakes? Has it been extra windy? All of that influences what I feel like would be good to do in DM class. What would feel good to me. It influences the music I'm drawn to when creating my playlist. Sometimes I wander about on iTunes looking for new music (or check out the titles/ artists that Alia is listing on her 40 day challenge site!). Sometimes I pull the songs into Garage Band to create new, longer, seamless tracks to play. I usually pull together the playlist on Tuesday night after work, since I don't have too much time after work and before class on Wednesdays. On Wednesdays, I race home from work, strip out of the corporate/office gear and try to have time to lie down and let my energies settle a bit. Then I "suit up:" yoga pants and top or (current favs) loose/flow-y palazzo pants with an attached mini-skirt from sense.com. I re-assess the playlist, pack up blankets (for myself and an extra or two for those who forget), zills, beaded hip scarf, and maybe the speakers, and head out. The studio is very close to home, about a 5 minute drive. Which is good as I have maybe an hour between getting home and needing to arrive at the studio. I try to get to the space at least 15 minutes early (no one's there) to warm up or air out the space depending on weather and to start to fill it with music.
People arrive, we check in a bit while waiting for the BART commuter to arrive, then get down to business. I almost always start sitting cross-legged and draw my energy In and Down, and extend my antennae to palpate the energy in the room, the energy of the music. I drop into a different state and feel myself start to move. Inhale. Exhale. We move, we rock, we lengthen, we contract, we expand, we lie down, we get up, we dance, we feel, we (hopefully) don't think, we resolve, we settle, we cease moving. ??After class, I enjoy the "perfume" of the practice and then start to reflect on what worked well, what worked less well. ??And start to think about next Wednesday…. There's a part of me that's always in that studio.

Dancemeditation is a program of the Dervish Society of America, a nonprofit organization helping people realize their human and spiritual potential by honoring their body and its movement ways using evolutionary Sufi Dancemeditation practices. Thank you for your gift. It's tax-deductible!